Temporary Changes to Gerry Lane Chevrolet's Store Hours: WE ARE STILL OPEN!
UPDATE: WE ARE NOW OFFERING FREE AT HOME DELIVERY FOR SALES AND A COMPLIMENTARY SHUTTLE FOR OUR SERVICE CUSTOMERS.
We want you to know that we are open and we are temporarily adjusting our store hours to open at 8 a.m. and close at 6 p.m. Monday-Friday, and 8:30 a.m. to 6:00 p.m. on Saturdays, until further notice. Our Parts & Service department's hours have also been adjusted to open at 7 a.m. and close at 5 p.m. Monday-Friday, and 7:00 a.m. to 12:00 p.m. on Saturdays. We will remain closed on Sundays at this time.
Make Carpooling Easier With a Chevy SUV
With kids starting back at school, it's the perfect time to purchase a new SUV. Chevrolet SUVs have a long-established reputation for reliability and spaciousness which is perfect for driving kids to and from school, extracurricular activities, and more! Today, let's compare three of our top contenders. Each of the following models, Tahoe, Equinox, and Traverse, are great options with unique features making one the perfect choice for your family.
What About the Chevrolet Tahoe?
The Chevrolet Tahoe is a full-size SUV that seats up to 9 people making it perfect if you participate in a large carpool that drives to the kids to soccer practice or gymnastics. The Tahoe is the highest-ranked large SUV in initial quality for having the lowest rate of reported problems in the J.D. Power 2019 U.S. I...

Why You Should Shop Our 2018 Closeout Sale
Chevrolet cars, trucks and SUVs are made to last, and while we pride ourselves on the constant innovation of our new models, we're also proud of past models. Right now, we're having a 2018 Closeout Sale to make room for the latest 2019 and 2020 models. Take advantage of this unique opportunity to buy a new 2018 car, truck or SUV!
Gerry Lane Chevrolet in Baton Rouge encourages you to grab at this opportunity while you can! Our 2018 Closeout Sale lasts as long as the inventory does, so here's the rundown. We currently have new 2018 models like the Malibu, Trax, and Silverado 1500. Our dealership is staffed with an incredibly helpful team who can get you on the right track with a financing application and a routine service plan.
What models are available during the 2018 Closeout Sale?
1. New ...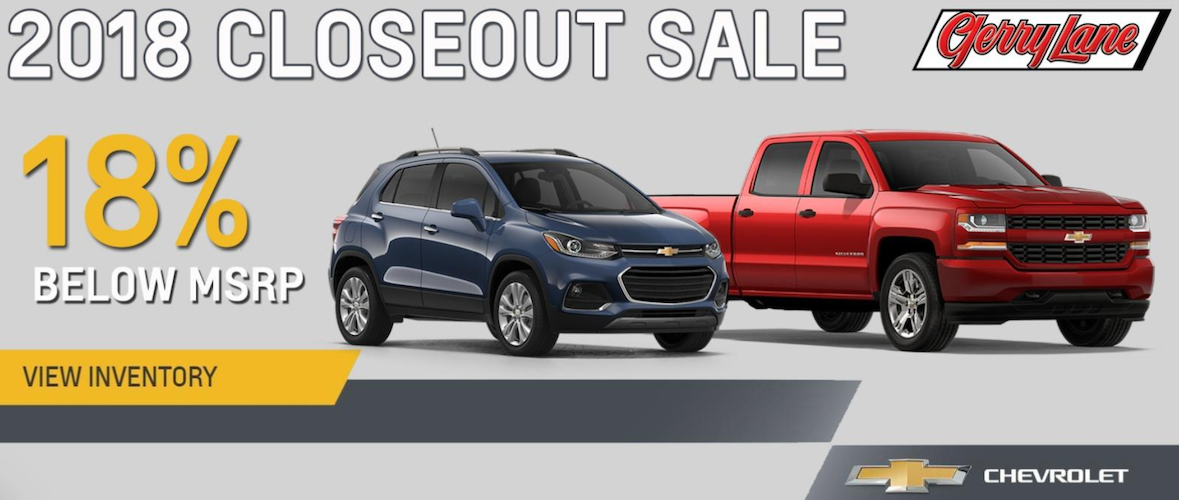 5 Tips For a Flooded Vehicle in Baton Rouge
Baton Rouge has been hit with heavy rains and widespread flooding, and we want you to be equipped with how to handle a flooded vehicle. Gerry Lane Chevrolet has compiled a list of what to do if your car, truck or SUV was affected by a flash flood or high water.
Here are some steps you should take:
1) DO NOT start your vehicle! Attempting to crank it will only cause further damage if the engine has been flooded. Just open the vehicle up and leave the windows down to let it dry it out.
2) Call your insurance agent/company and start the claims process. You can expect to receive full NADA retail value for your vehicle plus compensation for tax, title, and license if it's deemed a total loss.
3) Do not tow your vehicle to the dealership! Normally, we'd love a visit from you, but please call you...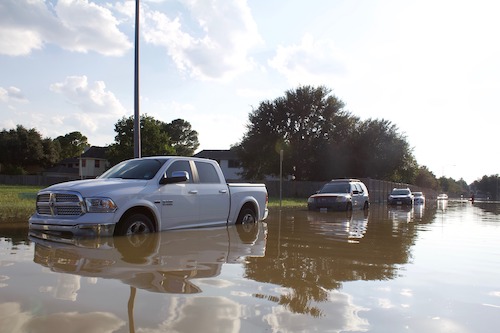 Searching For A "Chevy Dealership Near Me?"
These days, most of us get the majority of our information online. Whether we're shopping for new shoes or a new car, our search usually begins with our favorite search engine. Have you recently typed in "Chevy dealership near me?" You might want to look at more than its location before you choose where to purchase your vehicle.
"Where's a Chevy dealership near me?"
It might seem like the easiest way to pick a dealership is its location. But just like your favorite burger place is worth the drive, you should find the right dealership for you. Take into account its reputation, its customer service, and place in the community. Having a Chevrolet MEANS something. Shouldn't your interaction with your Chevrolet dealership mean something too?
Local Means Being A Part Of The Community
To be hones...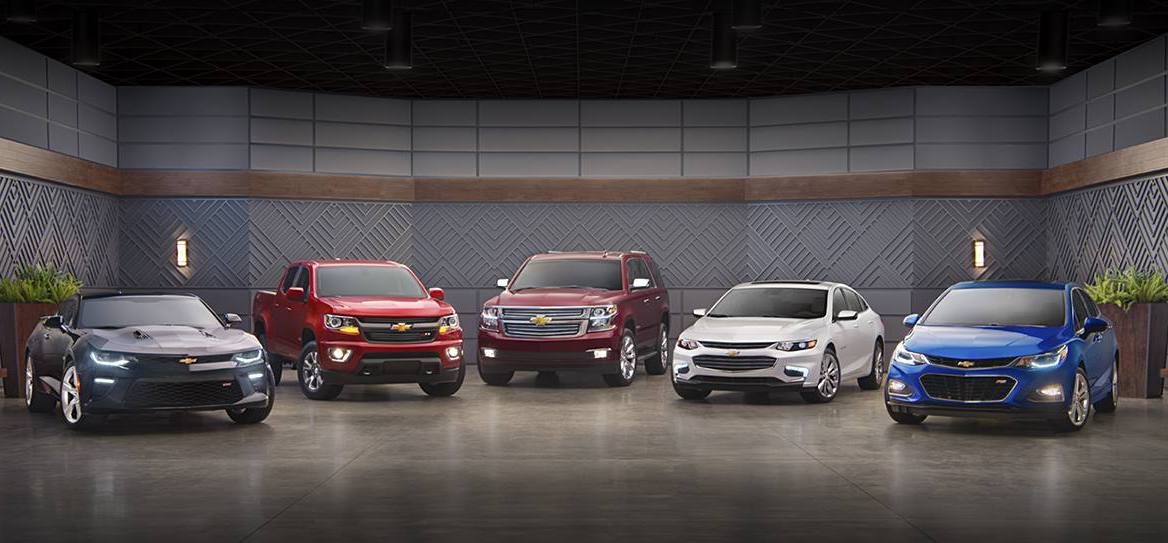 Five Reasons To Look At A Chevy Tahoe For Sale
There are so many reasons to look for a Chevy Tahoe for sale. Purchasing a new vehicle is a very personal decision. You might love the Tahoe for different reasons than your friend, coworker, or neighbor. But whatever your reasons for looking at this award-winning SUV, you really can't go wrong. Many drivers love it for five big reasons: its style, safety, performance, technology, and options.
1. Minivans, Be Gone!
You might be on carpool duty, but there's no reason to sacrifice on style. As a parent, you've sacrificed enough already. Get all your cool points in a Chevy Tahoe, while having the space for all the kids and their gear. Your kids might even be less embarrassed when you drop them off still in your pajamas.
2. Safety, Safety, Safety
The reliability and safety you expect from a Che...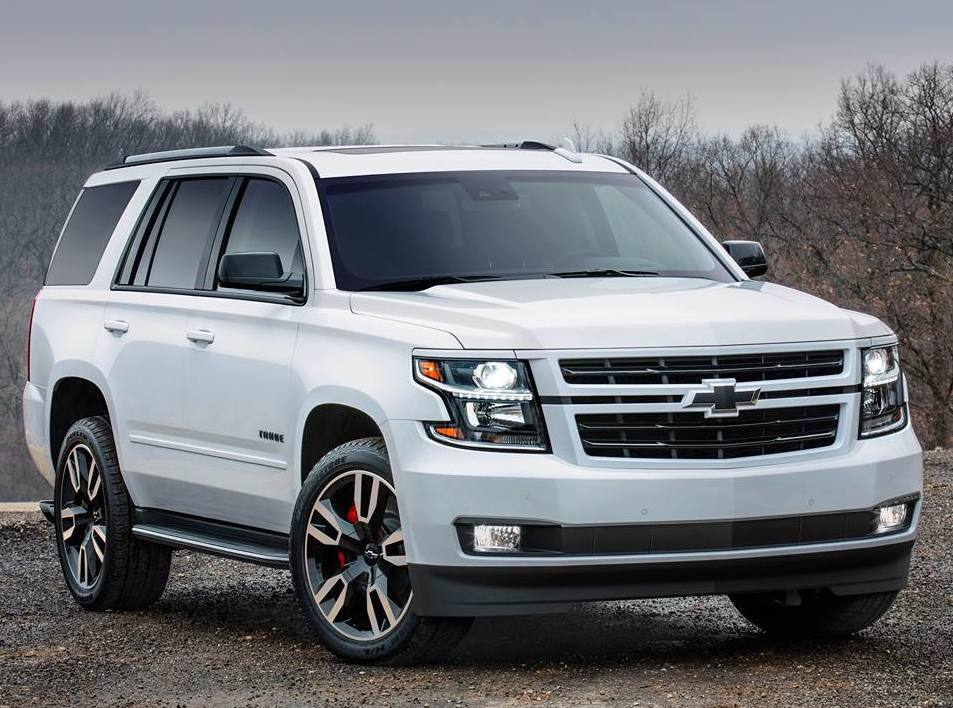 Where To Find A Chevy Trax For Sale
Are you looking for a Chevy Trax for sale? Or, maybe you're just in the market for a new car or SUV and aren't familiar with the Trax. Whether you're an expert on the model or new to car shopping, its features, look, and performance are worth a look. And since it's a Chevy, you can expect the Chevrolet dependability and craftsmanship.
Why Choose The Chevy Trax?
As a compact SUV, you get the best of both worlds with the Chevy Trax. The easy city driving of a car or sedan meets the extras and versatility of an SUV. In Baton Rouge, in particular, there are many reasons drivers choose the Chevy Trax:
It's a small SUV that's fun to drive.
It features a 138-hp 1.4-liter turbo engine with a six-speed automatic.
You can choose front- or all-wheel drive.
It's fuel-efficient and gets impressive mil...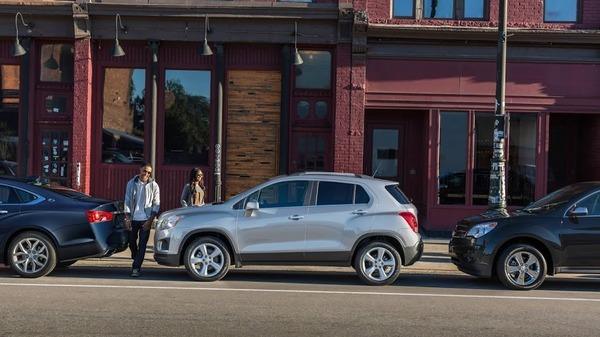 The Best Louisiana Chevrolet Dealers
What makes a dealership the best dealership? Louisiana Chevrolet dealers, in particular, have to live up to high standards. Not only do they need to uphold the values of Chevrolet, one of America's favorite legacy brands. Dealers also need to provide the community mindset, and the exceptional service Louisianians deserve.
Why Choose Chevrolet?
When you drive a Chevy, you're driving more than a vehicle-you're driving a part of American history. To do this, Chevy offers an option to please every preference and lifestyle. Are you looking for something sporty and high-performing? Check out the Corvette or the Camaro. Need more of a family car to tote all your kids and their gear? Skip the minivans and go for a Tahoe or a Suburban. Does your vehicle need to work as hard as you do? Enlist a truc...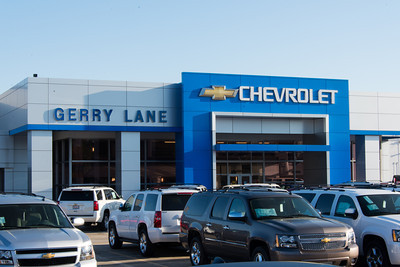 What Makes A Chevy Dealer A Chevy Dealer?
Few people look forward to shopping for a new car. You're prepared to spend and know what vehicles you're looking for. But it's the dealership that makes or breaks the experience. Find one that's trustworthy and puts customers first. If you're looking for a Chevrolet, you want a dealer that matches the brand's high standards and American values. Do you live in Baton Rouge, Hammond, Gonzales, Zachary, or Prairieville? All roads lead to Gerry Lane, your local Chevy dealer.
Chevrolet Is A Culture
Just look at the dozens of songs that mention Chevys. Without Chevrolet, Don McLean couldn't have taken his Chevy to the levy in "American Pie." Elton John couldn't have had an old gold Chevy and a place of his own in "Crocodile Rock." Taylor Swift, Trisha Yearwood, and even ZZ Top and Snoop Dogg all...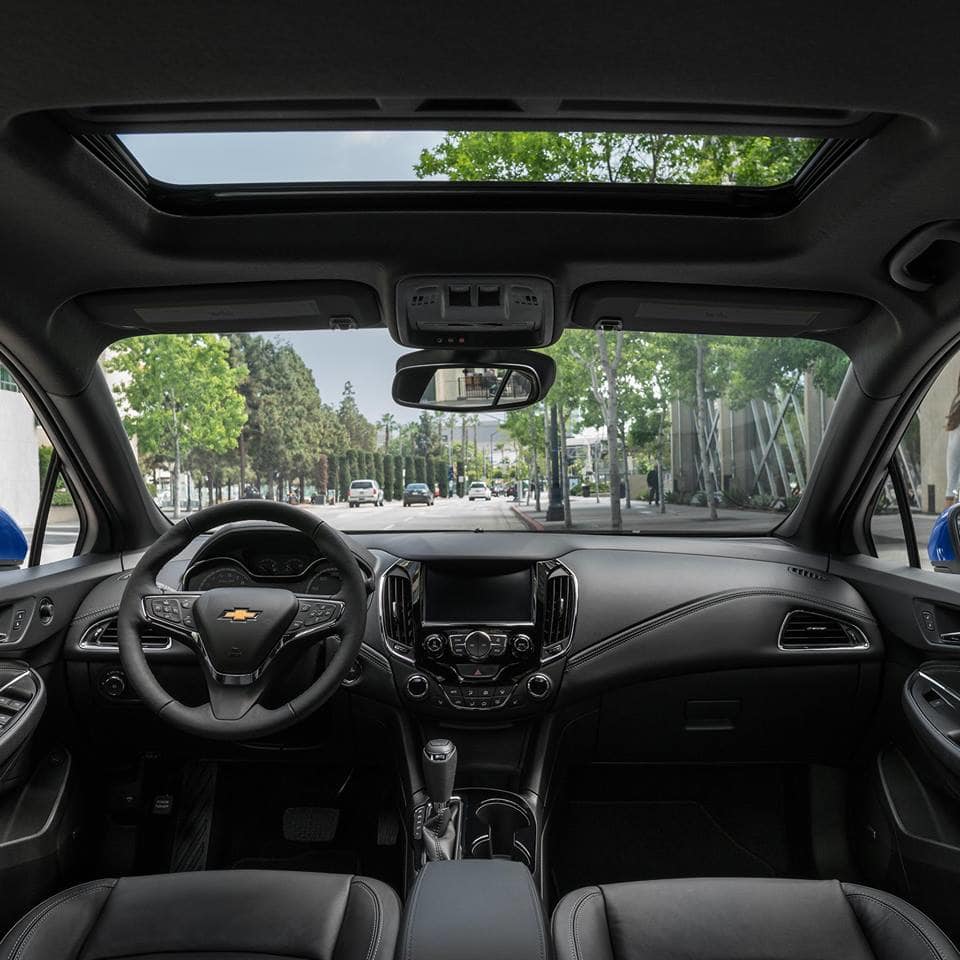 Looking For A Chevy Silverado For Sale?
Cars just don't get more American than Chevrolet. It's a brand immortalized in songs as well as on tailgates. For almost a century, Chevy trucks have been delivering long-lasting strength and dependability. And none exemplify these American values more than the Silverado. Looking for a Chevy Silverado for sale? You have some choices to make and more to learn about this storied vehicle.
Chevy Silverado: History For Sale
Chevrolet first introduced the Silverado in 1998, though the brand had been making pickup trucks since 1930. The name was likely inspired by the historical town of Silverado, California. Both the moniker and the truck exude ruggedness and determination. Since its original release, the Silverado has gone through four generations of models. But throughout them all, it always m...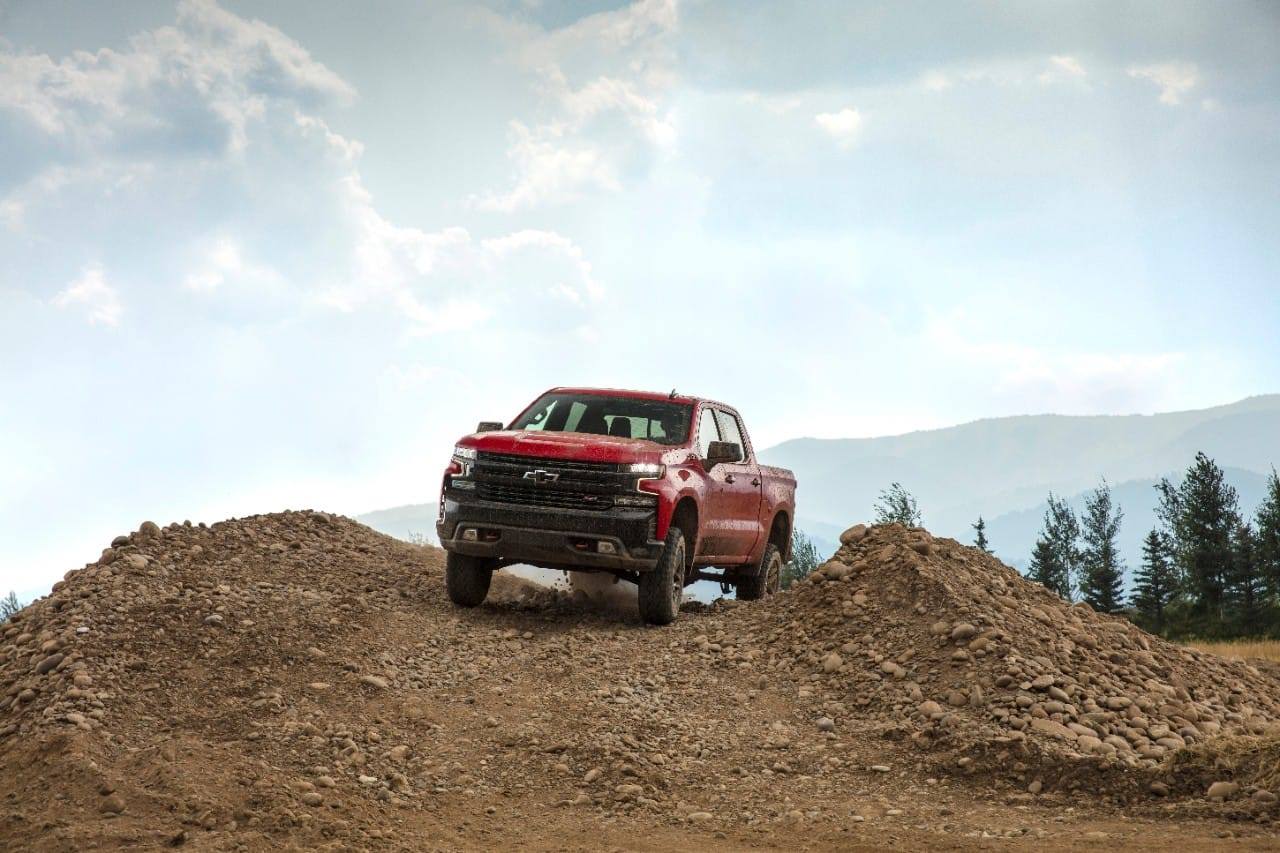 Protect Your Car From a Hurricane
Weather can be destructive to homes, cars and life's conveniences - especially when we're talking about hurricanes. If a hurricane is headed your way, it's always good to check with your insurance company and see what your plan covers. It's also a good idea to take pictures before the storm for your records. Once these two things are done, prepare for the coming storm with the below steps.
1. Hurricane Prep
Store registration info in a safe place - a fireproof and waterproof lock box. With the potential of flooding and other issues during hurricanes, you want to make sure you keep your important documents safe so if weather damage does occur to your vehicle you can act fast.
2. Check and replenish all fluids
Fill gas tank and any reserve canisters to full capacity. Doing so will help ensure ...
The 13th Gate Haunted House is a Scary Good Time
Halloween is fast approaching and for those of you who like a good scare, the 13th Gate Haunted House in Baton Rouge is calling to you in a creepy voice. It is a voice that sounds like a soft whimpering wind mixed with a hideous cackle. Can you hear it? No? Listen harder. It's saying, "come closer."
About the 13th Gate Haunted House
The 13th Gate has been featured on USA Today, NBC News, The Discovery Channel, the Travel Channel, ESPN and more. And it's well known for a reason. It isn't your average haunted house. It's a well-executed scary experience. You might find goblins, mummies, skeletons, zombies, ghosts within the 13th Gate. You won't find superheroes.
Why are we posting about this particular haunted house? Because we like Halloween and Gerry Lane Chevrolet is a proud sponsor of th...