Fun Facts about Chevrolet You Never Knew!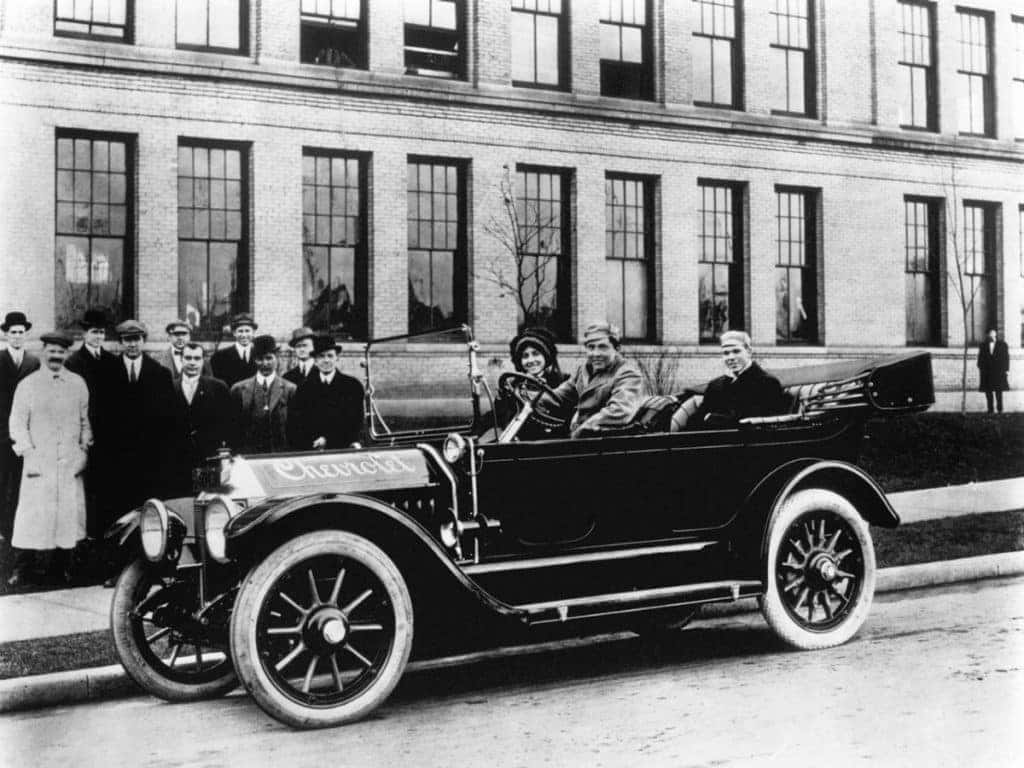 One of America's best-selling vehicle brands, Chevrolet has been proudly producing cars since 1911. The brand is beloved all across the world, with fans passing down their love for the Chevrolet moniker throughout multiple generations of family. With such a long and illustrious history, it is no surprise that Chevrolet is one of the most iconic and recognizable brands in the United States.
Being in business since 1911, Chevy has a ton of interesting facts to learn — that's why we put together this list of fun facts. Whether you're a lifelong lover of Chevy or new to the brand, this list of fun facts is sure to keep you entertained. Once you're done reading the list, come on down to Gerry Lane Chevrolet for a test drive in one of Chevrolet's latest and greatest vehicles. Gerry Lane Chevrolet is located on 6505 Florida Boulevard in Baton Rouge — so stop by today!
First Car Sold
Chevrolet began as a company in 1911 and managed to sell its first production vehicle two short years later in 1913. The first Chevrolet to be produced was the Series C Classic Six and it was priced at $2,150 — equivalent to over $60,000 today. Featuring an available electric starter and electric headlamps, the Series C was quite the innovative vehicle at the time.
Unfortunately, the Series C lost the popularity battle to the Model T Ford but that wouldn't be the end of Chevrolet. Despite a not-so-great start, Chevrolet has carried on, producing over 500 million vehicles over the last 100 years. If you're looking for a reliable vehicle that is both stylish and affordable — look no further than a Chevrolet.
Founded By
The company was started by former General Motors founder, William C. "Billy" Durant and racecar driver Louis Chevrolet. They were partners for three years before Louis Chevrolet decided to sell his stake in the company and move on to other ventures due to creative differences.
After Chevrolet's departure, Durant ran with his vision and built a great reputation for the company. Durant's ideas were cutting-edge, they were daring, exciting and most of all — risky. Yet he followed his gut every single step of the way and it paid off massively.
With every Chevrolet that has been produced, the spirit of the risk takin' Billy Durant lives on. Experience the thrill of a lifetime — get behind the wheel of a Chevrolet at Gerry Lane Chevrolet today!
Le Mans Champions
Chevrolet's most iconic model, the Corvette, has won one of the world's biggest racing events eight times since it was first produced in 1963. This is no small feat as it places Chevrolet amongst some of the top winning manufacturers like Ferrari and Porsche. With such racing prowess, it is no wonder that Chevrolet is seen as one of the most iconic sports cars of all time.
The 24 Hours of Le Mans is a sports car endurance race that has been held in Le Mans, France annually since 1923. A 24-hour test of skill and endurance, the Le Mans is the world's oldest active endurance race. Unlike many races, the car that covers the most distance in the 24-hour period is crowned the winner — making the race about much more than speed. Winning such a grueling race is an incredible honor and Chevrolet's Corvette has done it eight incredible times.
Always Connected
Chevrolet was the first company to offer built-in 4G LTE Wi-Fi in its vehicles, starting a trend that many competing manufacturers followed. With built-in 4G LTE Wi-Fi, you'll never be more than a few clicks or swipes away from your favorite movies, music and shows. It's even great for long road trips when you need to keep your kids — or yourself — entertained!
If you'd like to stay connected to the content you love, there's no better way to do it than in a 4G LTE Wi-Fi-equipped Chevrolet. Come on down to Gerry Lane Chevrolet and get your new Chevy today!
A New Vertical
Chevrolet has always offered the best prices on its vehicles, especially compared to its competitors. However, offering savings as Chevy does isn't easy — that's why Chevy created a clever hack that we'll tell you all about.
In the 1970s, Chevrolet began shipping their popular Vega model vertically rather than horizontally to save on space and shipping costs. This innovation is one of many ingenious ideas that the brains at Chevrolet have had in over 100 years of company history.
The First SUV
The Sport Utility Vehicle, otherwise known as the "SUV" is a beacon of American success in the '00s. Every rapper, athlete and politician rode around in them and every kid in America wanted one. While popular media may have you believe that SUVs are a new product of the '00s, the truth is Chevrolet did it first — way back in 1933.
You read that right. The first SUV ever made was the Chevrolet Suburban Carryall — making the Suburban the oldest active automotive nameplate in history. Nowadays the Suburban looks a lot different than it used to, but one thing that has never changed is the level of innovation. The Suburban is always a leader in technology and comfort and the exciting 2022 model — available at Gerry Lane Chevrolet — is no different. You can test drive the 2022 Suburban at Gerry Lane Chevrolet today!
World War II
During WW2 Chevrolet stopped production of their civilian vehicles in order to assist with the war effort. However, this doesn't mean Chevrolet stopped producing vehicles. Chevrolet converted their factories for the war effort and built the T-17 Staghound alongside airplane engines and various other parts.
Jet Engine Powered
In the mid-1960s Chevrolet introduced the Turbo Titan II concept, a jet engine-powered vehicle inspired by the space race. At the time, almost every company in existence was going for a "space-age" look and auto manufacturers took things to the next level. The Turbo Titan II featured "astronaut seats" and a unique dial steering wheel, yet it never — thankfully — saw production.
Mysterious Origins
Nobody actually knows where Chevrolet's famous "bowtie" originated from. Chevrolet founder Billy Durant claimed the idea was inspired by fancy wallpaper in a French hotel, but this may not be entirely accurate.
At one point in time, Durant's daughter had claimed that it was no more than a "doodle" that her father made one night while at the dinner table. If you dig deeper into the story, you'll find some more theories on origins, including one that theorizes the design was stolen from a compressed coal company.
No matter the origin, the Chevrolet bowtie is forever engrained in the history books. Get your own piece of history, visit Gerry Lane Chevrolet and purchase a new Chevy today!
Visit Gerry Lane Chevrolet Today
Equipped with some newly learned fun facts about Chevrolet, it's time to pay a visit to your local Chevrolet dealer — Gerry Lane Chevrolet located in Baton Rouge. Here at Gerry Lane Chevrolet, we stock Baton Rouge's largest selection of new and used Chevrolet vehicles all at the lowest prices around. When you're shopping for a new or used Chevrolet in Baton Rouge, you won't find a better deal than the one right here at Gerry Lane Chevrolet. If you're ready to become a part of the Chevrolet family, stop by and test drive the new Bolt EV today!