How much can the Chevrolet Silverado 1500 Tow?
If you have your eyes on a new Chevy Silverado 1500, you're likely curious about its towing capabilities. At Gerry Lane Chevrolet, we're here to help you explore this pickup truck's towing capacity, which reaches a maximum of 13,500 pounds. Our Chevrolet Silverado 1500 inventory is customized to meet your needs, so depending on the engine option that you choose, the towing capacity and features will vary.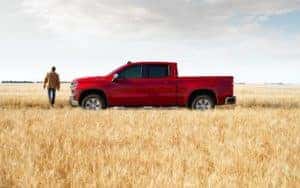 Chevrolet Silverado 1500 Towing Capacity by Engine
The towing capacity and performance you receive in your Silverado 1500 is determined by the engine that you choose.
4.3L V6 Engine: This is the standard base engine which delivers 285 hp and 305 lb-ft of torque. You'll receive at lowest towing capacity with this engine at 7,00 pounds.
2.7 Turbo Engine: With the 2.7 Turbo Engine, you'll enjoy 310 hp and best-in-class 348 lb-ft of torque. Upgrading to this engine provides a towing capacity of 7,900 pounds.
5.3L V8 Engine: This engine delivers 355 hp and 383 lb-ft of torque. The towing capacity with the 5.3L V8 Engine is 11,600 pounds.
6.2L V8 Engine: Whenever the Chevy Silverado is equipped with the 6.2L V8 Engine, it has a max towing capacity of 13,400 pounds. You will also enjoy the 420 hp and 460 lb-ft of torque that comes with this engine.
3.0L V6 Turbo-Diesel: The Diesel engine option offers a 9,400-pound towing capacity, with 260 hp and 460 lb-ft of torque.
Chevy Silverado 1500 Towing Features
There's no doubt that the 2020 Silverado 1500 is the strongest, most advanced Silverado ever. With all of the towing technology available in the Silverado 1500, you'll find that this pickup truck was built to handle the toughest jobs.
Trailering Package: Standard on the Silverado 1500, the Trailering Package comes with a trailering hitch platform and 2-inch receiver, an automatic locking rear differential, a 4-pin connector, and a 7-wire harness with a 7-way sealed connector.
Tow/Haul Mode: Tow/haul mode is a feature that empowers your truck with the ability to tackle heavier hauls while protecting your transmission. When in tow/haul mode, your Silverado's transmission shift patterns are adjusted to reduce the number of shift cycles. You'll be able to take better control of your truck while hauling heavy loads, even up and down steep terrain.
Tow Mirrors: Optional extended view tow mirrors can be purchased as an accessory for your Silverado. These mirrors will help to make your towing experience easier and safer.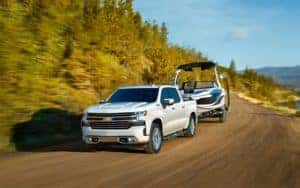 Z71 Off-Road Package: With the available Z71 Off-Road package, you'll experience features such as Hill Descent Control, Off-road suspension with Rancho® shocks, All-terrain tires, Automatic locking rear differential, and more! There's no doubt that you'll get the off-road capability you need for trips off the beaten path with the Z71 Off-Road package.
In-Vehicle Trailering System: First in its segment, the Advanced Trailering System features an in-vehicle trailering app which offers customized trailer profiles. Features included in this app include pre-departure checklists, trailer lighting diagnostics, and trailer tire pressure/temperature monitoring.
Trailering Tech: The Silverado 1500 offers a number of features to make each towing experience easier. Trailering technology includes Trailer Sway Control, Hill Start Assist, Trailer Theft Alert, Parking Brake Hookup Assist and Auto Grade Braking.
Camera Technologies: You'll be able to tow with confidence with the Silverado's camera packages that give you up to 15 unique views. Whether you need a hitch view, bird's eye view, pic-in-pic side view, the Silverado can deliver all of the different views you need to provide better visibility.
Shop New Chevrolet Silverado 1500 Trucks at Gerry Lane Chevrolet
Ready to experience all of the outstanding towing capabilities that the Chevy Silverado 1500 has to offer? Give us a call or visit Gerry Lane Chevrolet in Baton Rouge to view our full lineup of Silverado 1500 models. Located near New Orleans and Gonzales, we have a great selection of Chevrolet Silverado trucks for you to choose from, and our sales staff is here to help you find the right one for you.