Introducing the All-New, Fully-Electric Chevrolet Silverado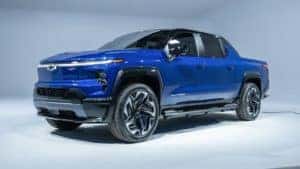 Announced by Chevrolet today, their flagship full-size pickup — the Chevrolet Silverado — will soon be available in a fully-electric version for the 2024 model year. This fully-electric pickup will be plenty capable and ultra-powerful while offering the following features:
A GM-estimated 400-mile range on a full charge. (Work Truck and RST models)
Up to 664-horsepower 780 lb-ft of torque will be available with max power Wide Open Watts Mode on RST, enabling a GM-estimated 0-60 mph time of fewer than 4.5 seconds.
DC fast-charging up to 350kW is standard on Work Truck and RST models.
Up to 10.2kW of off-board power is available on well-equipped Work Truck and RST models.
Up to 10,000 pounds of trailering capacity and up to 1,300 pounds of payload are available on the properly equipped RST model.
First Look
Built on GM's advanced Ultium EV Platform, the fully-electric Silverado EV has been developed from the ground up, offering next-level capability and performance along with cutting-edge technology.
"Chevrolet has constantly revolutionized the Silverado franchise to make it the powerhouse it is today," said Steve Hill, vice president of Chevrolet. "The Ultium Platform is a critical enabler of next-level pickup truck performance for both fleet and retail customers, whether they are currently driving a Silverado or are considering a pickup for the first time."
When it debuts, the Silverado EV will be available in two unique configurations, including a fleet-friendly WT (Work Truck) model and the exciting RST First Edition. Both models will offer plenty of standard and available safety features.
The RST First Edition will include the following:
Four-wheel steering
Automatic Adaptive Air Suspension
Multi-Flex Midgate
Available Mult-Flex Tailgate with power release
17-inch-diagonal LCD infotainment screen.
11-inch-diagonal Driver Instrument Display
Multi-color Driver head-up display
Super-Cruise with Trailering
The WT model will first be launched exclusively for fleet customers, helping usher in a new era of sustainable transportation. Featuring an impressive 510-horsepower and 615 lb-ft of torque, the WT is capable of towing up to 8,000 pounds and 1,200 pounds of payload. Following the launch of the WT, Chevrolet plans to introduce an even stronger fleet model that will be capable of towing up to 20,000 pounds when equipped with the max tow package.
"GM Fleet has long provided customers with great products and services, an exceptional customer experience and innovative solutions to meet their unique business needs," said Ed Peper, vice president of GM Fleet. "We're excited to launch the Silverado EV, providing customers with a true work-capable truck to help them begin the transition to an electric fleet and assist them in achieving their own sustainability goals."
The Future is Ultium-powered
The all-new Silverado EV will be built upon GM's Ultium Platform, a platform that GM believes will help drive their new EV strategy which aims for a zero-emissions future.
"The Ultium Platform enabled our design and engineering teams to start from a clean slate and create a pickup with impressive performance and capability," said Nichole Kraatz, Silverado EV chief engineer. "The result is a truly impressive testament to the creativity and innovation our teams can bring to market with speed and at scale."
Featuring a completely new body architecture, the Silverado EV will make use of the 24-module Ultium battery pack so customers can enjoy up to 400-miles of range on a single charge. This exciting new design will still deliver the legendary performance and durability the Silverado lineup has long been known for — whether on- or off-road.
Sporting independent front and rear suspension, the Silverado EV utilizes its e4WD system to transfer engine power to the available 24-inch wheels on the RST. An Automatic Adaptive Air Suspension system will allow owners of the Silverado EV to raise or lower their truck up to 2 inches.
Standard on all trim levels of the Silverado EV will be a four-wheel-steering system. This unique steering system reduces the turning radius of the Silverado EV, allowing for greater maneuverability at low speed. At high speeds, four-wheel steering increases stability and handling, for a smoother ride when on the highway.
Trailering with the Silverado EV will be made easy thanks to the Tow/Haul mode that comes standard on RST and WT models. RST and WT models will also come standard with trailer hitch provisions, an integrated trailer brake controller and Hitch Guidance. Chevrolet has opted to include its Advanced Trailering System on the Silverado EV, however, it will only come standard on RST models.
Remarkable Performance
You will never have to worry about waiting around for a charge with the all-new Silverado EV. Both the RST and WT models of the Silverado EV will come standard with public DC fast charging capabilities. With public DC fast charging, you can add up to 100-miles of range to your charge in just 10 minutes.
Whether you're on a weekend getaway or the worksite, the Silverado EV allows you to bring power with you, thanks to the available PowerBase charging system and accessory power bar. With PowerBase, Silverado EV customers will be able to enjoy up to 10 power outlets, which provide a total of 10.2kW of all-electric power.
Looking for a place to charge your Silverado EV? No sweat! Simply open the myChevrolet Mobile App and use the built-in Energy Assist feature. With Energy Assist you won't have to scour maps to find the nearest charging station, simply enter your location and Energy Assist will show you the nearest charging station available. This is a must-have feature if you own any one of the Chevrolet EV's.
Owners of the RST model will enjoy further charging capabilities thanks to Ultium Charge 360. With Ultium Charge 360, Silverado EV owners will have access to over 100,000 public charging points throughout the U.S. and Canada.
Those that opt for the WT will be able to make use of the Ultium Charge 360 Fleet Service. The Ultium Charge 360 Fleet Service is the perfect solution for an all-EV fleet, allowing drivers to take their vehicles home or return it to a central location.
Form. Function. Performance.
Designed for peak performance and functionality, the Silverado EV has been carefully designed down to the very last detail.
"We had no constraints when it came to designing the Silverado EV with dramatic style and flexible utility because we didn't need to work around a traditional propulsion system," said Phil Zak, executive director of Chevrolet Design. "The Ultium Platform allowed us to redefine what it means to offer expansive new storage and utility possibilities."
An athletic, yet capable aesthetic has been achieved on the exterior of the Silverado EV, giving it a unique and futuristic look. Careful consideration went into designing the body of the Silverado EV, with an aerodynamic front-end for reduced drag and turbulence. With such a sleek design, the Silverado EV has an unparalleled range for a fully-electric pickup.
The Silverado EV will be exclusively offered in Crew Cab models, with a large second-row that pushes rearward to comfortably accommodate passengers over 6 feet tall. This design choice was made in favor of shortening the front overhang of the Silverado EV, giving it a more aggressive look as well as more space.
Silverado EV owners will also be able to customize the first-row storage available on the RST and WT models, so they can make the most of their interior space to best suit their individual needs.
Chevrolet will also have available what they call the eTrunk. The eTrunk is a weatherproof, lockable compartment on the front of the vehicle which was designed to hold a large suitcase or a variety of Chevrolet accessory options.
The Silverado EV RST will feature a modular console, which has a large capacity of over 7 gallons. That means you can fit a lunch cooler inside, making the day at the job site just that much more comfortable. Also exclusive to the RST model will be a fixed-glass roof which increases visibility and headroom.
Customers that opt for the Silverado EV RST will be able to maximize its 5-foot-11-inch bed space with the new Multi-Flex Midgate. While open, Multi-Flex Midgate allows for over 9 feet of storage space between the tailgate and cab.
The second row of seats in the Silverado EV will be a 40/60 split, with up to four configurations for easier hauling of gear and equipment. If more space is needed, customers can add the Multi-Flex Tailgate, which on the RST will allow for up to 10-feet-10inches of storage capacity. Customers can keep their gear protected with an available tonneau cover, which turns the bed into a fully lockable weatherproof storage space.
Tomorrow's Technology
As one of Chevrolet's most forward-thinking vehicles, the Silverado EV comes packed full of the latest and greatest technology. This includes an advanced software system that helps evolve the vehicle's technology over time, creating a better user experience.
Unique lighting animations will be strewn throughout the Silverado EV, such as when you approach the RST and it lights up. On the interior, the RST's 17-inch display screen will display a large 3D animation upon entering the vehicle. Once the customer is in the vehicle, the new hands-free start system will automatically start the vehicle while the customer buckles up.
As mentioned, the tech in the Silverado EV evolves over time, thanks to the all-new Ultifi system. Developed exclusively by GM, Utilifi allows frequent, rapid software updates. These software updates will enhance the performance of the Silverado EV and its features, increasing your quality of life with every drive.
Detroit Made
Committed to a better future, GM invested $2.2-billion into their redesigned Factory Zero in Detroit. This facility was repurposed and retooled to exclusively build and produced GM's latest lineup of EVs.
By spring of 2023, the Silverado EV will first debut the WT model, a fleet-oriented work truck with a single-charge range of over 400 miles. Shortly after, in the fall of 2023, the fully-loaded RST First Edition will debut — also offering a 400-mile range — and will be starting off at an MSRP of $105,000 + DFC.
More models of the Silverado EV are slated to be released as production increases over time. Chevrolet has already announced they plan to field a Silverado EV lineup that will consist of multiple models, including the WT, RST and eventual Trail Boss. Chevrolet also announced a vast price range for the Silverado EV lineup, going from $50,000 MSRP all the way to over $100,000 MSRP.
Order Today
Highly anticipated, the Silverado EV is slated to release by 2023, but that doesn't mean you should wait until then to order yours. If you're looking to get your hands on the exciting new Silverado EV, you'll want to stop by Gerry Lane Chevrolet today. Here at Gerry Lane Chevrolet, we stock the Baton Rouge, LA area's widest selection of new, pre-owned and certified pre-owned Chevrolet vehicles, so stop by and speak with one of our sales professionals today!
Whether you're located in Baton Rouge, Merrydale or anywhere in between, Gerry Lane Chevrolet is the Chevrolet dealer for you. Don't wait to order your all-new Chevrolet Silverado EV, place your order right here at Gerry Lane Chevrolet located in Baton Rouge, LA today!
Source Article: Chevrolet Newsroom