New Chevrolet SUVs in Baton Rouge, LA
New Chevy SUVs Available in Louisiana
Engineered to excel in the areas that matter the most to our Baton Rouge customers, the new SUV models available now at Gerry Lane Chevrolet are the latest in a long line of family-friendly vehicles. Designed to provide owners with everything needed to overcome any challenges they might encounter, Chevy SUVs are the ideal vehicle option for virtually any occasion. No matter which Chevy SUV you're considering, be it the Trax, Equinox, Blazer, Traverse, Tahoe or Suburban, rest easy knowing that each one was engineered to meet our rigorous standards for both safety and dependability. Learn more about which Chevy SUV best suits your lifestyle.
Chevy Blazer
Blazer is the latest member of the Chevrolet SUV family, arriving with bold and sophisticated styling both inside and out. A two-row mid-size SUV that can fuel all of your south Louisiana adventures, the new Blazer lineup is both intriguing and exciting.
Shop Blazer
Chevy Equinox
Chevrolet Equinox is a small SUV that's up for just about anything. With our innovative infotainment technology, active safety features and fun-to-drive performance, these versatile Chevy SUV models are ready to explore everything Baton Rouge has to offer.
Shop Equinox
Chevy Suburban
New Suburban models offer the convenience of truck utility combined with SUV versatility, and refinements you'd expect to find in a luxury sedan. Even with all its cargo and passenger room, they're still able to offer impressive efficiency.
Shop Suburban
Chevy Tahoe
Inside Chevrolet Tahoe, you'll find a comfortable and totally connected cabin that features bold interior styling and elegant amenities. Responsive performance meets impressive efficiency to create an SUV option that's truly unlike any other you'll find.
Shop Tahoe
Chevy Traverse
Spacious enough to accommodate a big family without compromising when it comes to style, Traverse offers features to keep you connected. With Traverse, the ride makes all the difference, and these latest models make every drive worth the trip.
Shop Traverse
Chevy Trax
Equally as stylish and versatile as our Baton Rouge customers, Chevy Trax offers sporty performance to go long with a surprisingly spacious interior. These innovative SUVs are available with features that can help make any Louisiana road trip more enjoyable.
Shop Trax
What is the difference between the Blazer and the Equinox?
The Chevy Blazer is considered a mid-size SUV while the Chevy Equinox stands as a more compact crossover. Blazer's are more spacious and place a sportier twist on Chevy SUVs while the Equinox is slightly more affordable and receives up to 28 mpg city and 39 mpg highway. The Equinox averages 32 mpg at its most efficient point.
What are some differences between the Chevy Trax and Equinox?
The Chevy Trax is more affordable when comparing the two, likely because the Equinox is slightly larger and offers more legroom, particularly for backseat passengers. Additionally, Equinox has a bit more horsepower than the Chevy Trax. However, with the Trax being a slimmer SUV, squeezing into tight parking spaces will be a breeze!
Does the Chevy Traverse have third-row seating?
Yes, the Traverse has three rows of roomy seats and ample cargo space! Depending on the trim you choose, 7-8 people can safely ride in your midsize SUV. The number of passengers depends on whether you opt for captain's chairs or a bench seat in the second row. Either way, you'll have the seats and space you need.
How much larger is the Chevy Suburban compared to the Tahoe?
Both the Tahoe and Suburban are excellent family vehicles for those needing an SUV with truck-like capability; however, the Suburban is larger with an extra 20 inches in length. While second-row passengers won't see much more legroom, third-row passengers gain about 10 inches in the Suburban. It's all about what best suits your family!
Chevrolet SUV Seating
We understand that each of our customers have different wants and needs in a vehicle. Depending on your lifestyle, you may be searching for a Chevy SUV with more or less seating. Whether you need a spacious Chevrolet SUV for your family, or a smaller crossover for your daily commute, Gerry Lane Chevrolet has the SUVs you're looking for. Find out how much each Chevrolet SUV seats below.
Blazer
The 2020 Chevrolet Blazer seats up to 6 passengers.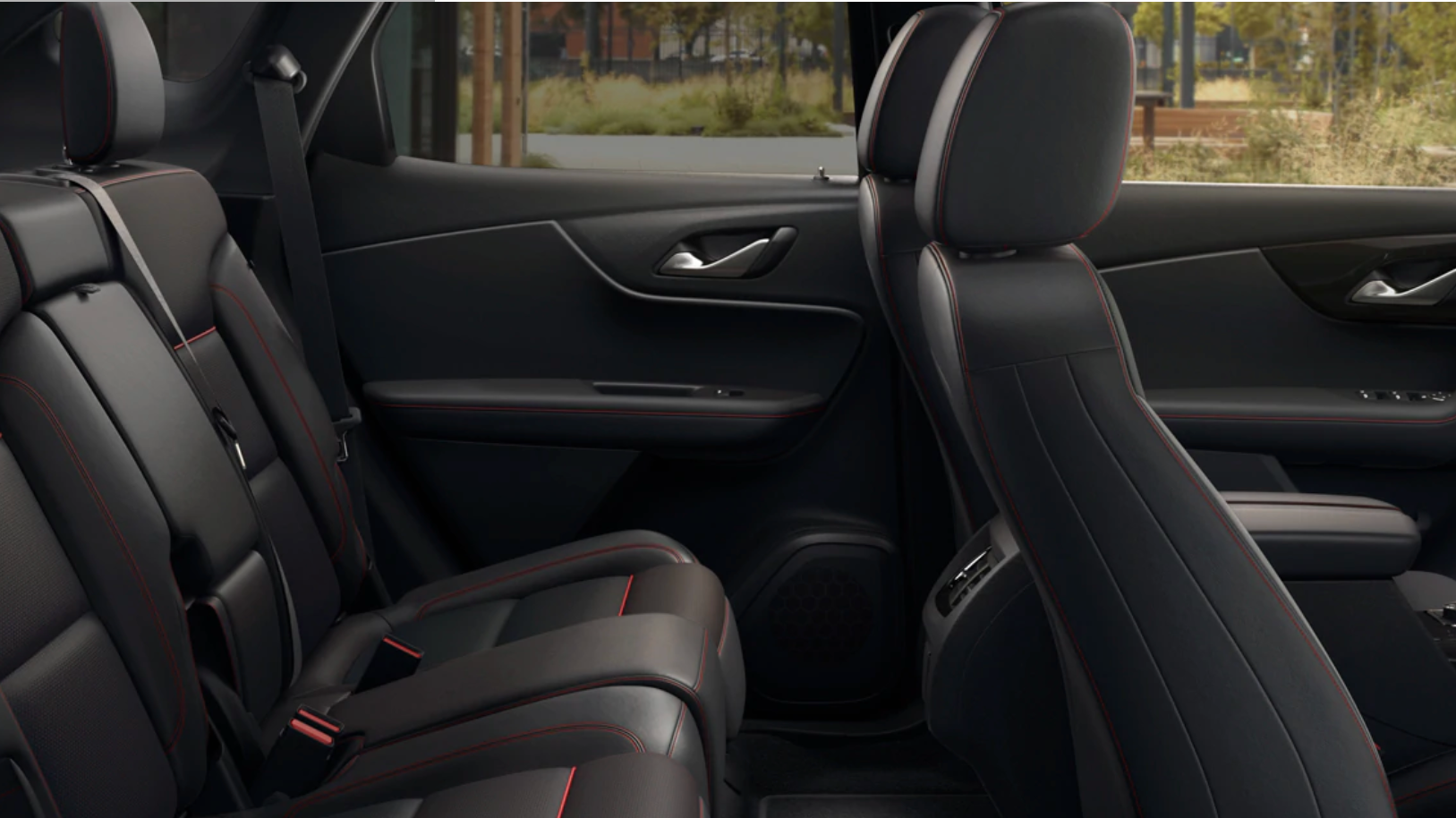 Equinox
The 2020 Chevrolet Equinox seats up to 5 passengers.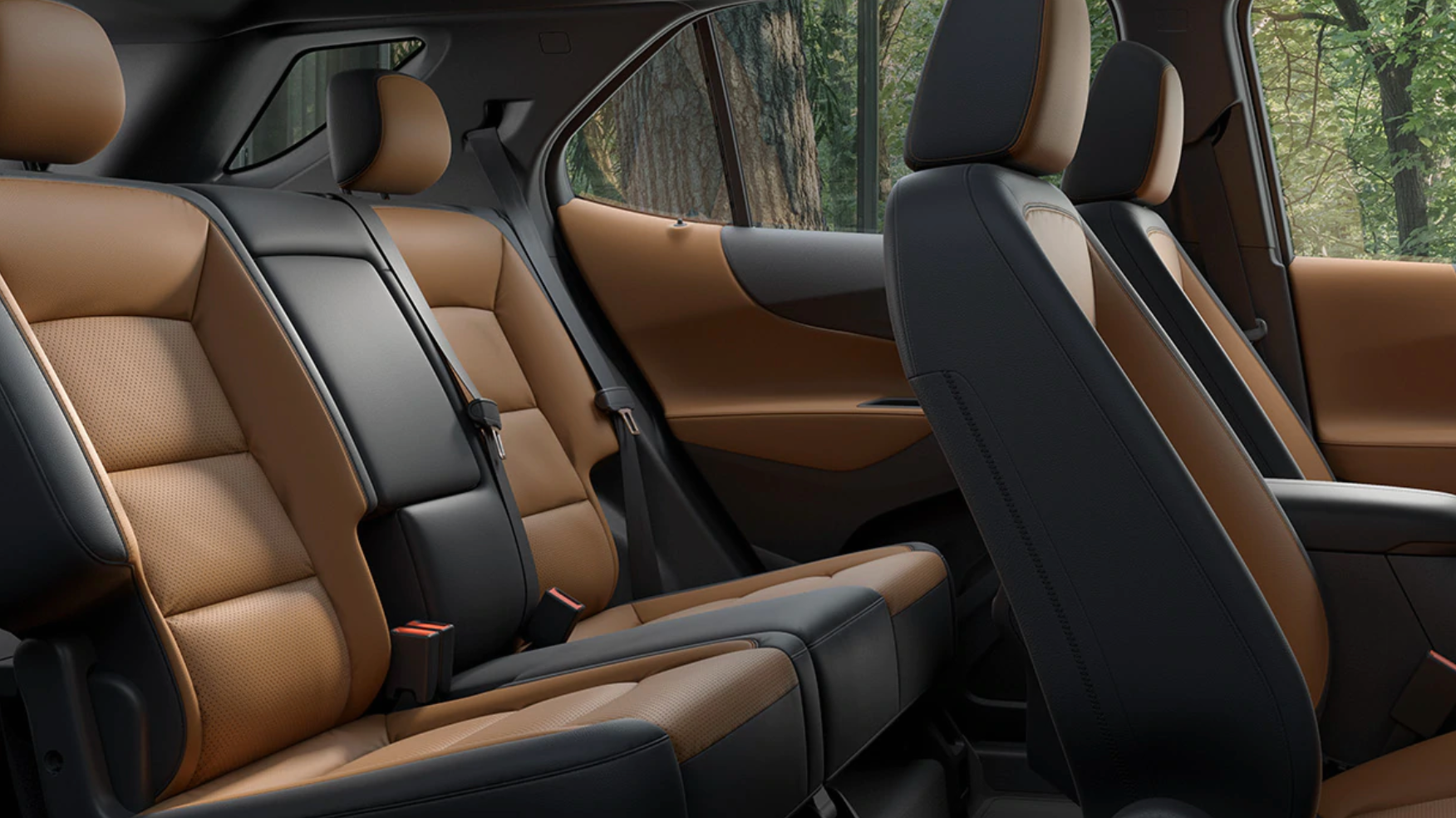 Suburban
The 2020 Chevrolet Suburban seats up to 9 passengers.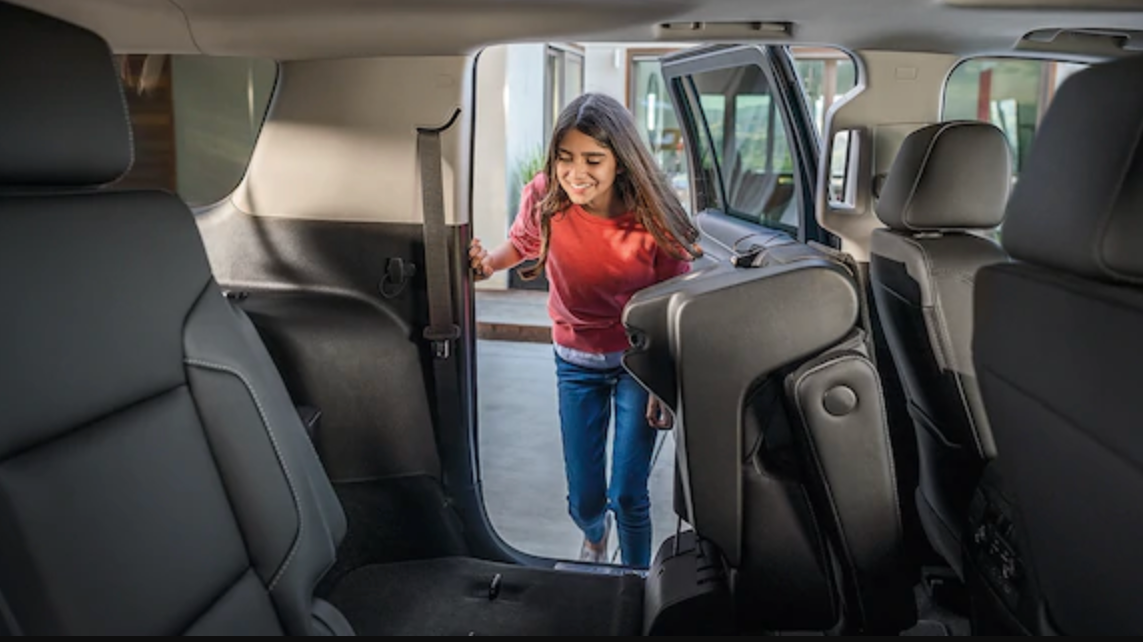 Tahoe
The 2020 Chevrolet Tahoe seats up to 9 passengers.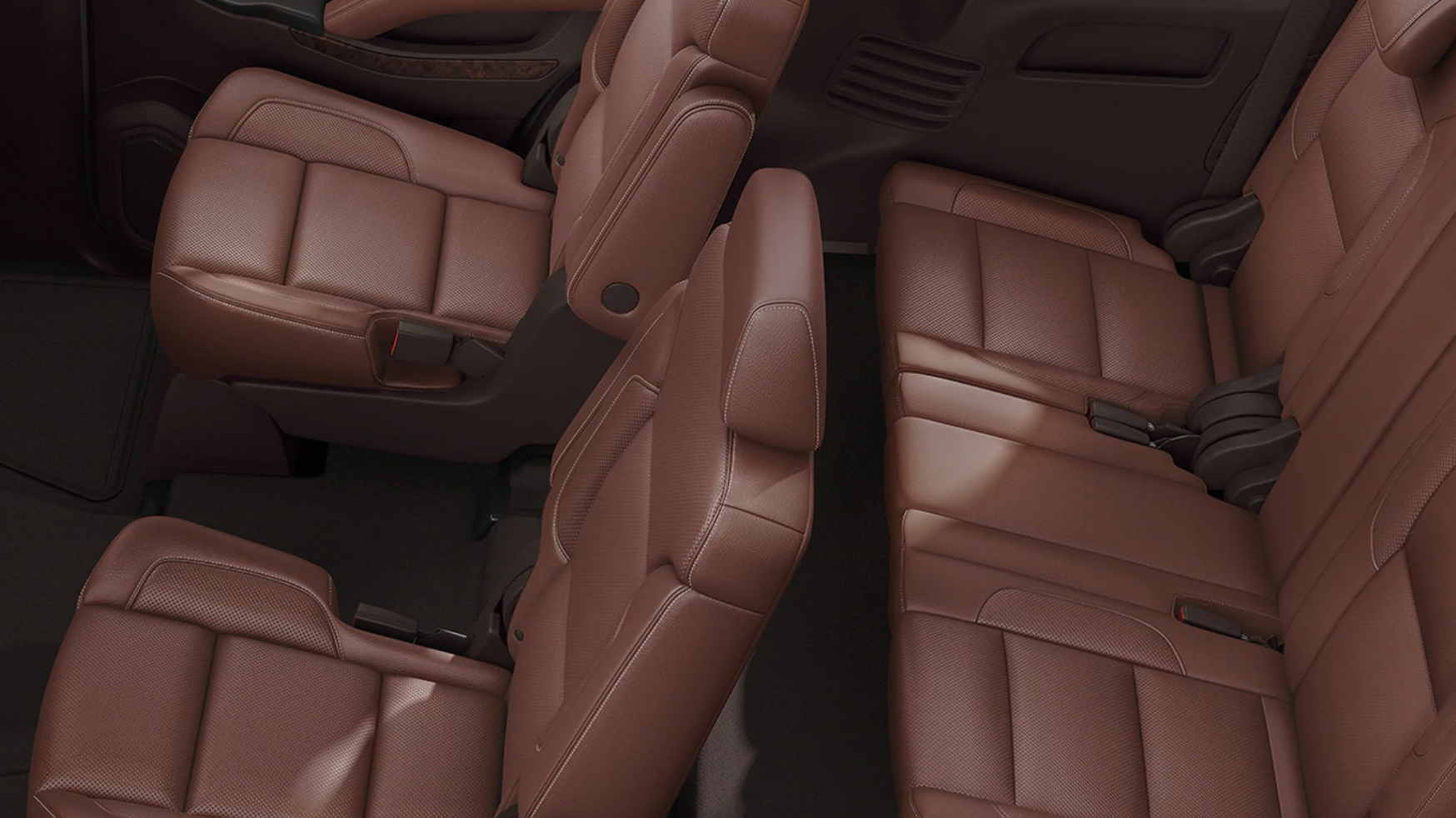 Traverse
The 2020 Chevrolet Traverse seats up to 8 passengers.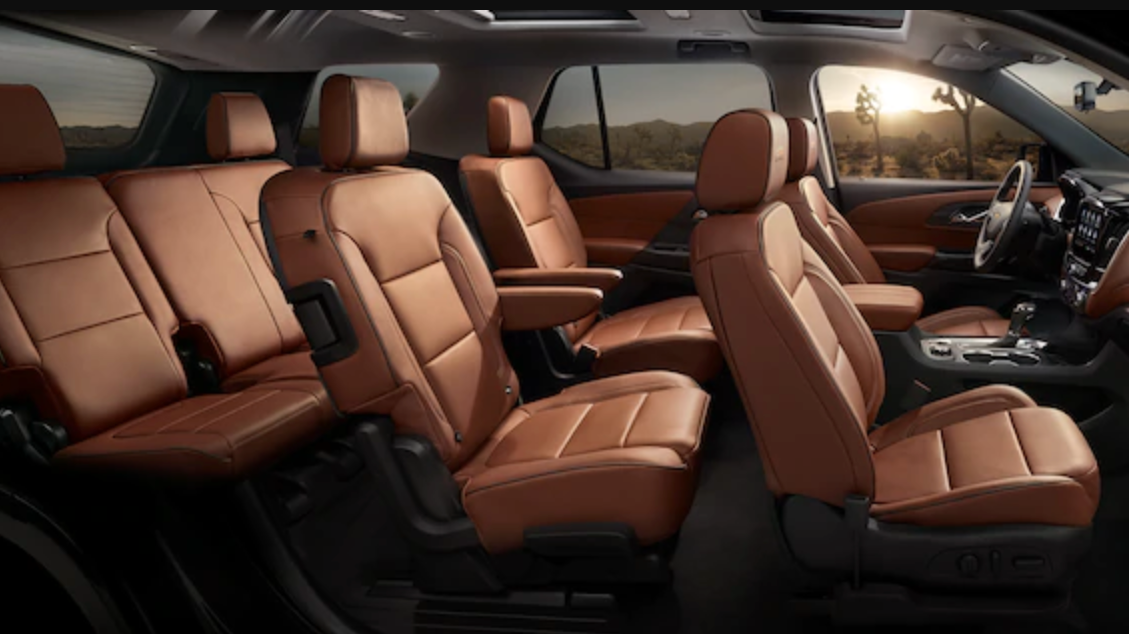 Trax
The 2020 Chevrolet Trax seats up to seats up to 5 passengers.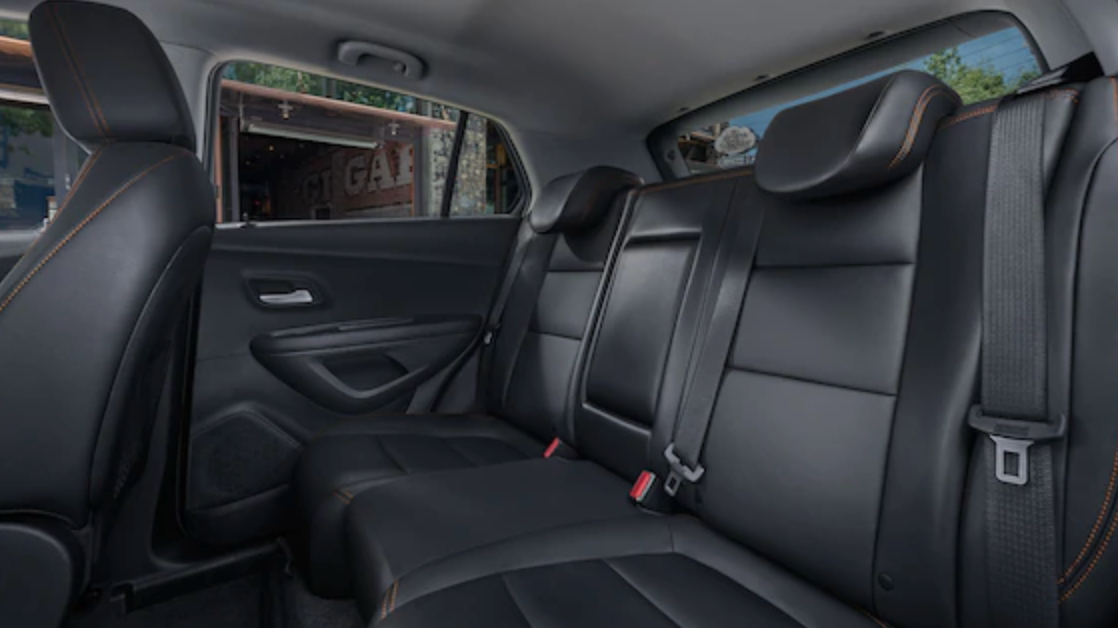 Chevrolet SUV Towing Capacity
Getting your things from place to place is important. That's why we're proud to have a selection of Chevrolet SUV models with impressive towing capacity. Discover the towing and hauling capacities of our Chevrolet SUVs below!
Chevrolet Tahoe - 6,400 to 6,600 pounds

Chevrolet Equinox - 1,500 to 3,500 pounds

Chevrolet Suburban - 6,000 to 6,300 pounds

Chevrolet Blazer - 1,500 to 4,500 pounds

Chevrolet Traverse - 1,500 to 5,000 pounds