Certified Service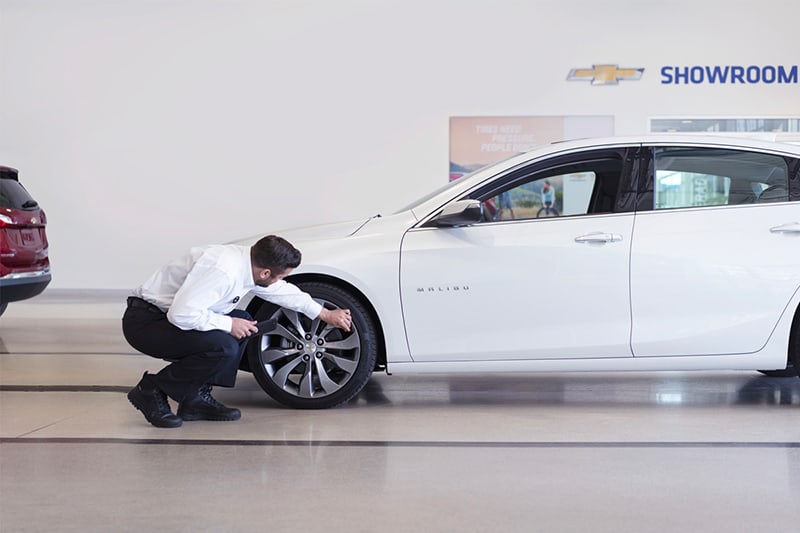 Car Repair and Maintenance Service Offers and Pricing
At Gerry Lane Chevrolet, we offer competitive prices on popular auto services such as oil changes, brake pad replacements, and new tires. The experienced, knowledgeable technicians at our car repair shop are trained to work on all Chevrolet models and will easily identify what your vehicle needs to perform at the highest level. Driving around Denham Springs becomes a lot more relaxing when auto service experts repair your car!
In addition to scheduling car repair and maintenance services whenever you need them, be sure to review our latest service specials. Our auto repair shop near Plaquemine routinely issues service coupons, so check back often and save on your car maintenance expenses!
Car Repair and Maintenance Services in Baton Rouge You Can Trust
Need New Tires?
Your vehicle's tires are the first and only contact with the road, so it is important to choose the right set when replacing them. Gerry Lane Chevrolet has Certified Service experts that will handle all of your tire needs. From checking tire wear to tire pressure, our car repair shop team is dedicated to maintaining your auto rubber! They can also help you find new tires for your vehicle to avoid unsafe handling issues.
Find Tires
Need An Oil Change?
Your car may be trying to tell you something! Oil Life Monitoring Systems let you know when it's time for an oil change and our Certified Service experts can recommend what's best for your vehicle. Schedule an appointment at our auto repair shop today! Whether you need your oil changed or simply topped off, our trained technicians are here to help you avoid premature engine wear from low or dirty oil. If there is a leak, they will find it and fix it to prevent unnecessary oil losses and related expenses. We also offer free lifetime oil changes for Gerry Lane Club members!
Learn More
Multi-Point Vehicle Inspection
With your Multi-Point Vehicle Inspection from our car maintenance team in Baton Rouge, you receive a thorough assessment of your vehicle by Certified Service experts. So protect yourself and your automotive investment with a comprehensive vehicle inspection at your Gerry Lane Chevrolet Dealer today. Our auto repair shop is here to prevent small problems from becoming big, costly issues that make it dangerous to drive around Gonzales and Plaquemine. Routine multi-point vehicle inspections are among the essential auto services that keep you safe on the road.
The Multi-Point Vehicle Inspection form uses a simple color-coded key to assess maintenance terms:
Red indicates items that need immediate attention.
Yellow indicates items that should be addressed in the near future.
Green indicates no items to address.
Hearing Brake Noise?
Stopping power is crucial to a safe and successful driving experience, and you should never drive for long if your brakes are squealing, screeching, or making any other unpleasant noises. When you need brake service, visit Gerry Lane Chevrolet and our GM-Certified Service experts will determine what your vehicle needs. Whether it's time to replace the brake pads or the entire brakes, count on our car repair and maintenance team to provide efficient, quality services that contribute to your vehicle's safety.
Learn More
Battery Trouble?
Your vehicle's battery provides energy to start the engine and supply power to the car's accessories when the engine is not running, such as the lights, windows, and windshield wipers. It also keeps the dashboard lights illuminated. However, the cold of winter and the heat of summer can drain your auto battery. If your battery power is running low, visit our car repair shop for battery services. Our service technicians in Baton Rouge will replace the battery and provide any other car maintenance services your vehicle needs.
Learn More
Contact our Car Maintenance Department in Baton Rouge
Service: (225) 926-4600
Parts: (225) 926-4600
6505 Florida Blvd, Baton Rouge, LA 70806
Get Directions To Our Auto Repair Shop